Science, Technology and Gender
A report from UNESCO, 2007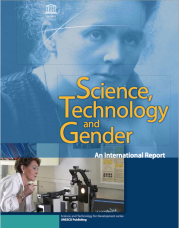 'Gender discrimination limits socio-economic growth, warns report
Gender discrimination practices truly limit the ability of many developing countries to grow and reduce poverty,' warns a report released in October 2007 by UNESCO. 'Much talent is being wasted as girls turn away from S&T (Sience & Technology) careers and as women in S&T become discouraged by discriminatory treatment.' Quote from UNESCO's web page.
Reed the full report here.