UPCOMING EVENTS RELATED TO STEM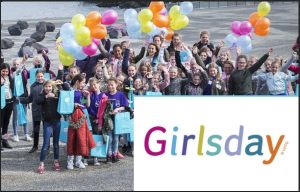 11/04/2018
Eleven thousand girls learn about technology during Girlsday 2018
Dutch Minister of Education, Culture and Science Ingrid van Engelshoven will kick-off Girlsday 2018 together with 75 girls on Thursday April 12th. They will do this using a HoloLens. This will mark the start of Girlsday activities throughout the Netherlands. On this day, more than 11.000 girls from elementary and secondary school visit companies involved in Science, Technology, Engineering and Mathematics (STEM).
Reed more »
The Healthcare Businesswomen's Association (HBA) Paris Chapter is pleased to invite you to their next exciting event on
10 April 2018!
What makes a successful entrepreneur? How can you as an innovative professional contribute to an organization? What does it take to make a career transition? How can you turn challenges into opportunities?
Reed more »